As well as our car detailing packages we also offer a vast range of additional services in order to provide a complete care package for our clients.
Artistic Detailing is always researching and investing in new ways to offer highly trusted services and will endeavour to provide great customer service and vehicle  appearance treatments.
Client drop off and pick up
Artistic Detailing strives in providing great client and vehicle care and realises it can be a hassle arranging a lift from our studio on drop off day and equally getting a lift to us on the agreed collection date therefore we offer a free drop off and pick up service for our clients to save you organising these lifts if this is something that would benefit you.
Wheel refurbishments – From £75 per corner
Artistic detailing works with highly trusted and recommended partners in order to provide clients with a range of services. Whether you're looking for refurbishment of diamond cut alloys, aesthetic TLC or a complete colour change we can offer them all.
Powder coating: is the refurbishment of the whole wheel. This method is used for complete colour changes or to return the wheel to its original finish if the damage is too severe or if there are multiple damages spread over the wheel.
Diamond cutting: is the same as powder coating process (detailed above) with the addition of a diamond cut lathe which removes a micro section of the metal wheel face which results in a diamond cut finish.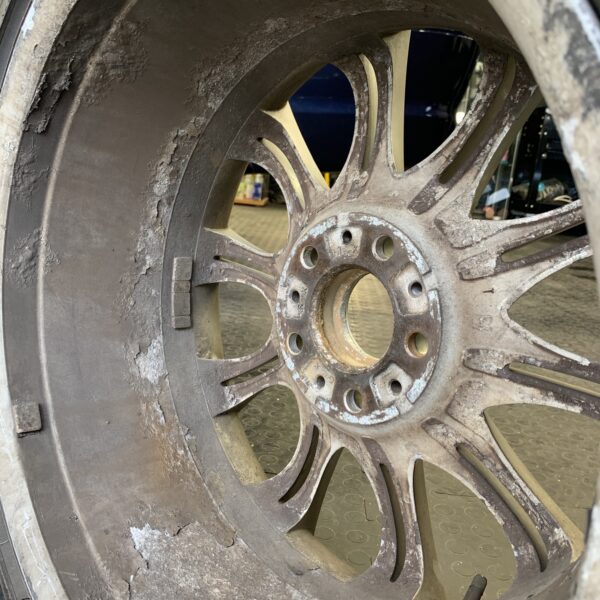 Caliper & Hub painting –  From £50 per corner
Some vehicle tend to to have unpainted and uncoated components from the factory unless you've opted to have performance brakes, this means that after a short period of time they can corrode and look unsightly. Painting the calipers and hubs of your vehicle can make a big difference to its overall look, you can add a bit of your own personality to your vehicle to enhance its appearance by choosing from a wide range of colours.
The Process:
Careful removal of wheel from vehicle.
 Thorough clean to remove embedded brake dust and dirt.
Air blown to remove dust from crevices.
Sanded down to remove any flaking paint or tar and to provide a smooth surface for the paint to adhere too.
Wipe thoroughly with panel wipe to prepare surface.
Paint primer is applied followed by hand painting the colour of your choice (2 layers of coloured paint) and then a lacquer (top coat) secures the reinvented callipers and gives a glossy finish.
Hubs are also prepared and painted using either black or silver.
Disclaimer:  Vehicles equipped with brake pad wear sensors and/or electronic parking brakes can potentially need a reset or re-calibration via a diagnostic tool to remove any warning errors on the vehicles display, in some cases this can only be completed by a main dealership workshop at cost to the vehicles owner.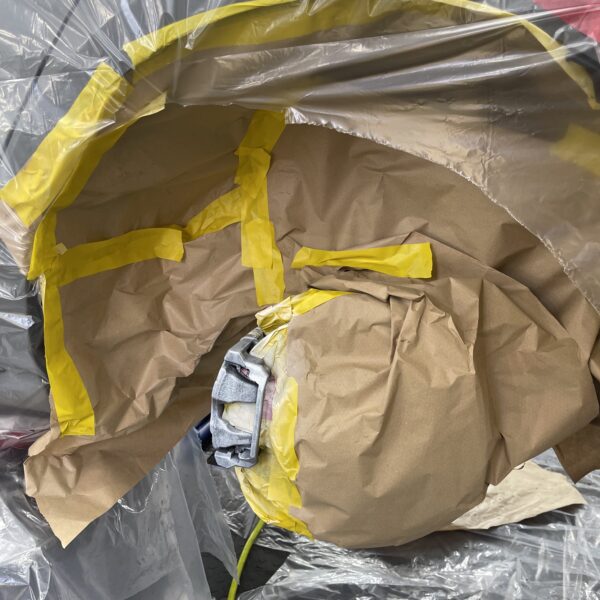 Dent Removal – From £80
Paintless Dent Removal (PDR) is a popular treatment when trying to make your vehicle's appearance renewed.  This kind of repair is carried out without the need for expensive bodyshop work as we use a trusted mobile specialist who aims to removes small dents by 'massaging' the damaged area as well as using other techniques such as dent popping/pulling when required, in order to restore the panel to its original condition. Paintless dent removal is the most cost effective and successful treatment for smaller dents or impressions such as parking dings and trolley dents for example.
Badge removal & reapplication – From £20
We offer the precise removal of unsightly and worn vehicle badges and replace with OEM equivalents. Clients often take this opportunity to choose a different colour or effect for the new badges which will be reapplied (such as black instead of chrome or carbon effect etc) equally not all the vehicle's badges dont have to be reapplied if you wanted a cleaner look (for example removal of engine size embellishments '2.0')
Not many rivalling companies offer this service but Artistic Detailing is always trying to enhance the services on offer to clients so they can walk away with a reinvented vehicle.
Disclaimer: this service is only included as part of a full detailing package and not offered as a solo service.
Window Tinting – Price POA
Tinting vehicle windows has become increasingly popular and there's a number of reasons why.
Aesthetically pleasing – adds to a vehicles overall look
Reducing UV rays.
Helping to keep a car cool in summer months.
Reduces theft and aids in security (personal belongings are hard to see)
Our mobile partner provides a precise, efficient and dedicated installation. The window templates are cut and trimmed to size away from the car using appropriate tools to ensure there is no risk of  damage to the vehicle's glass or rubber seals.  There are legal limits as to how dark the tints on the front windows can be, however the rear windows can be as dark as you'd like. (further specialist advise on tint darkness is easily accessible)
Disclaimer: this service is only included as part of a full detailing package and not offered as a solo service. (Price POA – prices depend on how many windows will be tinted)
Vinyl Wrapping – POA
Vinyl wrapping has become hugely popular in the motoring industry as it provides clients with a less costly option to completely change the appearance of their vehicle. The ease of applying, changing and removing the wrap is desirable and can be achieved without ruining the original paintwork.
Our partner is a certified installer with Hexis UK and therefore provides access the best of their materials for our clients. Full vehicle colour changes are becoming a widely chosen choice for many and Hexis UK can offer 100's of possible colours and finishes for you to choose from such as gloss, pearlescent, matte and carbon fibre. Vinyl wrapping of any vehicle offers protection to the underlying paintwork against stone chips, light scratches and UV damage.
*Once the vinyl is installed the client gets a manufacturer's grantee for the lifespan of the wrap*